10% Amazon Video Games Discount with ECA Membership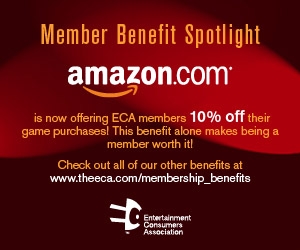 The Entertainment Consumers Association (ECA) is a 501(c)(4) non-profit membership organization which was formed in 2006. The ECA serves as advocates on the State and Federal Level to represent consumers who play play computer and video games.
Membership is $19.99 a year. In addition to being an advocacy group, the ECA can be consider an "AARP" or the "AAA" for video gamers, where members enjoy amazing discounts on video games in partnership with retailers, industry events, and more.
The best benefit they offer is a 10% discount with
Amazon.Com
. After you join the ECA, you can go in and generate a unique coupon code which will deduct 10% of your purchase price on any video game.
If you do the math, you'll realize that the membership will pay for itself quickly. Just buy 4 video games in a year that cost an average of $50 each and every game from your fifth game on is at a colossal discount.
And if you act quickly, there was a posting on Slickdeals which provided a promotion code where you can get your first year for free (!). Here's a quote from that site:
Entertainment Consumers Association is offering a free 1-year membership with coupon GIMAG. One of the many membership benefits is 10% off on all video games on Amazon.com (full membership benefits).


Click here .and register an account
Check your email for confirmation link, and click on it
Check out, enter coupon code GIMAG
Note, a valid credit card is required to register the account, and it will be charged a then-current membership fee after 1 year passes, unless cancelled.